SYNOPSIS:

Yuen Woo Ping (The Matrix trilogy, Kill Bill Volumes I and II, Crouching Tiger, Hidden Dragon and Hero) brings you TRUE LEGEND, a heart pounding epic about the timeless battle between good and evil. Su Can's (Vincent Zhao) respectable life is obliterated when his vengeful brother, Yuan (Andy On), returns from war armed with the deadly Five Venom Fists. Weakened but not destroyed, Su Can learns a never-before-seen form of martial arts: the Drunken Fist. Armed with this new power, he returns home to honor his family through retribution by taking on his brother in a battle to become the ultimate warrior. Packed with distinct fighting styles—including MMA, knife combat and sweeping aerial stunts— and starring martial arts legends Michelle Yeoh, David Carradine and Jay Chou, True Legend has Phillip French of The Observer raving, "It opens with one of the best action sequences I've ever seen."
Director: Yuen Woo Ping
Cast: Vincent Zhao, Zhou Xun, Michelle Yeoh, David Carradine, Cung Le
CHALLENGE:
Traditionally, the martial arts genre has a small but vibrant audience base consisting of genre devotees and Chinese American audiences. In both instances, these consumers had access to "grey market" home video releases (English subtitled Hong Kong DVD distributed) available through established online retailers a full 3 monthd prior to our theatrical release.
The decision was made to provide a high-quality English language dubbed version of the film, coupled with aggressive what-pasting, stickering and stunt promotions to re-engage these audiences while reaching out to a broader general market fan base consisting of urban markets, gamers and eclectic cinema fans.
KEYART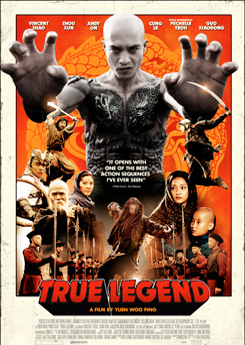 A highly-stylized retro-inspired key-art attracted cinephilles, fans of off-beat camp and grindhouse cinema…beyond the rubric of traditional martial arts cinema
TRAILER
Our decision on trailer was again predicated on a "broader radius" outreach. The stunning cinematography, together with the martial arts choreography of director Yuen Woo Ping where key. When co-star, Keith Carradine had passed away prior to distribution, trailer edits were quickly assembled to highlight his presence in what was to be his last film.Coupled with his newfound success via the Kill Bill films, trailers and other video clips were tagged and distributed.

Music Video & Original Music Track
Producing an original music track and accompanying music video to market an Asian martial arts title for the US market was a radical departure. Harnessing recording industry relationships. The music talent of ( ) of famed industrial music pioneers Neitzer Ebb fame ( ) from Kraftwerk (write in), the track "Axis of Envy" was produced. We deviated from traditional Cantopop tracks entirely, opting for the techno-industrial music embraced by gamers, urban art circles, cyber-junkies and other alpha adopters and early influencers.
Street Marketing
Wheat pastings and stickering provided great visibility in key urban markets, where the genre is quite successful. With the support of our radio promotions agency, he "fist in your face" image worked its way onto skateboards, DJ bags, nightclubs and retailer walls.
Stunt Marketing
As exhibited in this YouTube video, Ninja-costumed B-boy (break dance) artist performed to amused crowds in key, high visibility markets. As seen here at the Grummans Chinese Theater in Hollywood, CA, there was ample viral media support as onlookers snapped and uploaded photos, received flyers and stickers for a truly "above the clutter" promotion.