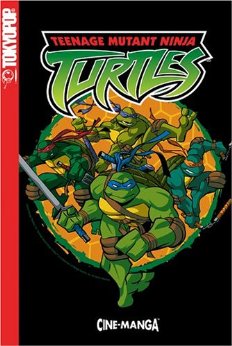 July 7, 2013 By admin-absc
Comments Off on TOKYO POP
July 7, 2013 By admin-absc
Comments Off on DETECTIVE DEE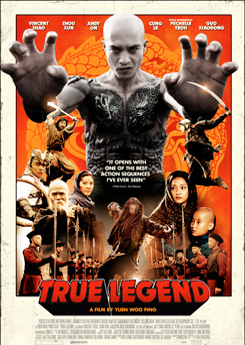 July 7, 2013 By admin-absc
Comments Off on TRUE LEGEND
SYNOPSIS:

Yuen Woo Ping (The Matrix trilogy, Kill Bill Volumes I and II, Crouching Tiger, Hidden Dragon and Hero) brings you TRUE LEGEND, a heart pounding epic about the timeless battle between good and evil. Su Can's (Vincent Zhao) respectable life is obliterated when his vengeful brother, Yuan (Andy On), returns from war armed with the deadly Five Venom Fists. Weakened but not destroyed, Su Can learns a never-before-seen form of martial arts: the Drunken Fist. Armed with this new power, he returns home to honor his family through retribution by taking on his brother in a battle to become the ultimate warrior. Packed with distinct fighting styles—including MMA, knife combat and sweeping aerial stunts— and starring martial arts legends Michelle Yeoh, David Carradine and Jay Chou, True Legend has Phillip French of The Observer raving, "It opens with one of the best action sequences I've ever seen."
Director: Yuen Woo Ping
Cast: Vincent Zhao, Zhou Xun, Michelle Yeoh, David Carradine, Cung Le
CHALLENGE:
Traditionally, the martial arts genre has a small but vibrant audience base consisting of genre devotees and Chinese American audiences. In both instances, these consumers had access to "grey market" home video releases (English subtitled Hong Kong DVD distributed) available through established online retailers a full 3 monthd prior to our theatrical release.
The decision was made to provide a high-quality English language dubbed version of the film, coupled with aggressive what-pasting, stickering and stunt promotions to re-engage these audiences while reaching out to a broader general market fan base consisting of urban markets, gamers and eclectic cinema fans.
KEYART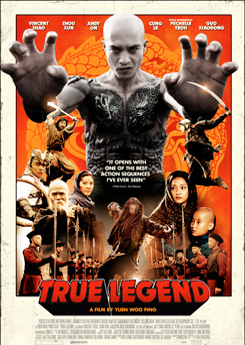 A highly-stylized retro-inspired key-art attracted cinephilles, fans of off-beat camp and grindhouse cinema…beyond the rubric of traditional martial arts cinema
TRAILER
Our decision on trailer was again predicated on a "broader radius" outreach. The stunning cinematography, together with the martial arts choreography of director Yuen Woo Ping where key. When co-star, Keith Carradine had passed away prior to distribution, trailer edits were quickly assembled to highlight his presence in what was to be his last film.Coupled with his newfound success via the Kill Bill films, trailers and other video clips were tagged and distributed.

Music Video & Original Music Track
Producing an original music track and accompanying music video to market an Asian martial arts title for the US market was a radical departure. Harnessing recording industry relationships. The music talent of ( ) of famed industrial music pioneers Neitzer Ebb fame ( ) from Kraftwerk (write in), the track "Axis of Envy" was produced. We deviated from traditional Cantopop tracks entirely, opting for the techno-industrial music embraced by gamers, urban art circles, cyber-junkies and other alpha adopters and early influencers.
Street Marketing
Wheat pastings and stickering provided great visibility in key urban markets, where the genre is quite successful. With the support of our radio promotions agency, he "fist in your face" image worked its way onto skateboards, DJ bags, nightclubs and retailer walls.
Stunt Marketing
As exhibited in this YouTube video, Ninja-costumed B-boy (break dance) artist performed to amused crowds in key, high visibility markets. As seen here at the Grummans Chinese Theater in Hollywood, CA, there was ample viral media support as onlookers snapped and uploaded photos, received flyers and stickers for a truly "above the clutter" promotion.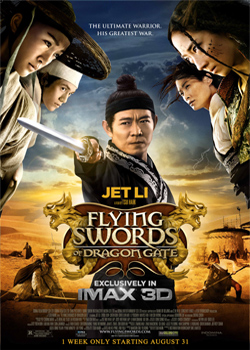 July 7, 2013 By admin-absc
Comments Off on FLYING SWORDS OF DRAGON GATE
SYNOPSIS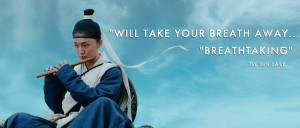 An explosive mix of warriors, fugitives and assassins converge in the desert for a deadly showdown in this multi-award winning, martial arts epic reuniting genre master Tsui Hark with Jet Li in an action-packed, visually breathtaking IMAX 3D experience.
The tale continues at the infamous Dragon Inn three years after it was left in ruins. A new gang has taken control of the inn as they secretly search for the nearby lost city of gold. Threatening to expose their search is the arrival of a beautiful fugitive from the palace accompanied by the swordsman who would die to protect her, and a group of assassins who will stop at nothing to find her.
From TSUI HARK the director of the acclaimed DETECTIVE DEE…
Starring JET LI
Distributor: Indomina Media
Director: Tsui Hark
Cast: Jet Li, Zhou Xun, Chen Kun, Gwei Lun-Mei, Li Yuchun, Mavis Fan, Louis Fan Siu Wong, Gordon Liu
Writer: Tsui Hark
Producers: Tsui Hark, Nansun Shi, Yu Dong
Genres: Action, Drama, Foreign, Martial Arts
Country of Origin: China
Language: Mandarin with English subtitles, English dubbed
Visual Format: Scope, IMAX 3D, Digital 3D
Sound Format: 5.1
Release Date: August 31, 2012
Release: Limited
Running Time: 122 minutes
Rating: R
KEY ART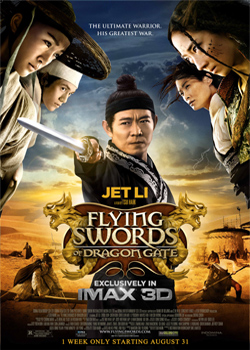 TRAILER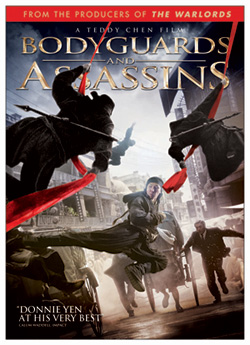 July 7, 2013 By admin-absc
Comments Off on BODYGUARDS & ASSASSINS
SYNOPSIS:
Donnie Yen (Blade II, IP Man, Hero) and MMA fighter Cung Le star in this gripping martial arts blockbuster set in the bustling metropolis of Hong Kong in 1905. The revolutionary movement has spread throughout China, but the corrupt Qing dynasty will do anything to hold on to its power. As Sun Yat-Sen prepares for a historic meeting that will shape the future of the country, a motley crew of men and women are entrusted to protect him from a group of deadly assassins who will stop at nothing to kill him. Winner of eight Hong Kong Film Awards, including Best Film, and featuring an hour-long battle sequence unlike anything attempted before, it's a pivotal action epic that's being hailed as "a satisfying mix of politics, personal sacrifice and death-or-glory combat" (Richard Kuipers, Variety).
Director: Teddy Chen
Cast: Donnie Yen, Leon Lai, Wang Xueqi, Tony Ka-fai Leung, Nicholas Tse, Simon Yam, Cung Le
Challenge:
While the film had well-recognized talent in Asia, and had won numerous accolades, we faced the challenge of marketing this title in the US market almost a full-year after its theatrical release in Asia and other markets.
Solution:
The film was loosely based on a famed 1905 visit by Dr. Sun Yat Sen to Hong Kong, where Chinese independence (finish rest….keep tight). We opted not to promote as a "based on a true story" as was the case in Asian markets. We felt that might nudge the film towards a drama genre and loose interest upon action-martial arts genre fans. We enlisted the support of one of the stars, Cung Le, a champion in mixed martial arts here in the US, who made his film debut in the film. We secured his support via social media messaging and a very robust radio sweepstakes program, offering Cung Le autographed gloves, amplified by a campaign running across the myriad of MMA fan sites, blogs and forums and social media channels.
Key Art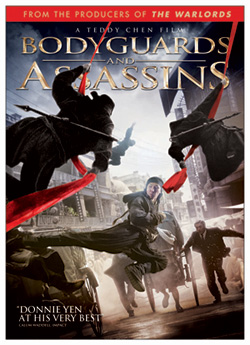 Event Channels
Securing an impressive space at Comic-Con yielded a phenomenal opportunity to reach the several hundred thousand vocal and viral fanboy base. Situated in the top traffic corridor adjacent to Warner Bros. And the live event broadcast on G4TV, a massive digital display (measure) featured the trailer. Buoyed by the in-tandem press event announcing the live action production of Afro-Samurai, led by Samuel L. Jackson, we carried the message further. We also enlisted the support of Ryan Kwanten, star of True Blood (promoting another one of our titles) to draw enormous crowds for autograph and meet and greet sessions. Give-aways be costumed street teams both inside Comic-Con and the in the blocks in the surrounding San Diego area carried the message further, as did giveaways of highly sought after collectable vinyl art, signed by the artist on site.
We had secured 4 tastemaker screenings at the nearby Landmark Theaters that evening, further promoted by online, radio, social media and street teams to pack audiences in once the Comic-Con halls had closed.
Further bolstering home video sales, we secured an impressive full-length "making of" film called "Development Hell" which chronicled the "cursed" production set that was befallen by numerous fatalities and a massive fire that destroyed the entire 5 3 city block set recreating turn of the century, Hong Kong. Sony Playstation (was it Xbox!), who had just ramped up its video on demand platform integration, sought points of distinction from iTunes. Offering the content as a bonus exclusive to Xbox, B&A was provided premium promotional positions across the network.
trailer